10 Instagrammable and healthy berry recipes that will make your 2020 fabulous!
So how was your last week of 2019 — Christmas soirée's, bonfire scenes and lit NYE corroborees which tend to have an abundance of treats, lots of snacks, and free-flowing drinks, all of which makes it really easy to overindulge. It's fine to go overboard, but now that the holidays are behind us, it's time to get back to a healthy routine, or better yet - start a new one to shed the unwanted weight you've accumulated through the holiday season. The holiday season, especially the last week of oh nineteen, may have landed a lot of us down with excess fat and sugar, but now it's time to get back to a healthy routine. How to succeed, especially with the shaadi season just around the corner? Well, how about a 'berrylicious' diet? 
Berries aren't only pretty to look at and delicious, but when it comes to health, they have a fabulous reputation. All berries are great sources of fibre, a nutrient important for a healthy digestive system. Berries contain antioxidants which not only help in keeping your skin bright and healthy, but they also repair damage caused by pollution and smoking, to help the body ward off cancer. Studies have also shown the range of polyphenols contained in berries can help to lower cholesterol and blood pressure as well as preserving bone density in post-menopausal women. Blueberries and cranberries contain flavonoids which have shown to improve memory, aid decision making, and give a healthy boost to overall cognitive function.  And there have been researches which suggest that a diet containing flavonoids can provide some protection against Alzheimer's.
Here are 10 quick and easy 'berrylicious' recipes that'll blow everyone away, and also help you stay in shape. And the best part is that you don't have to have a culinary degree to ace these!
1)Wild Blueberry Turmeric Zinger Smoothie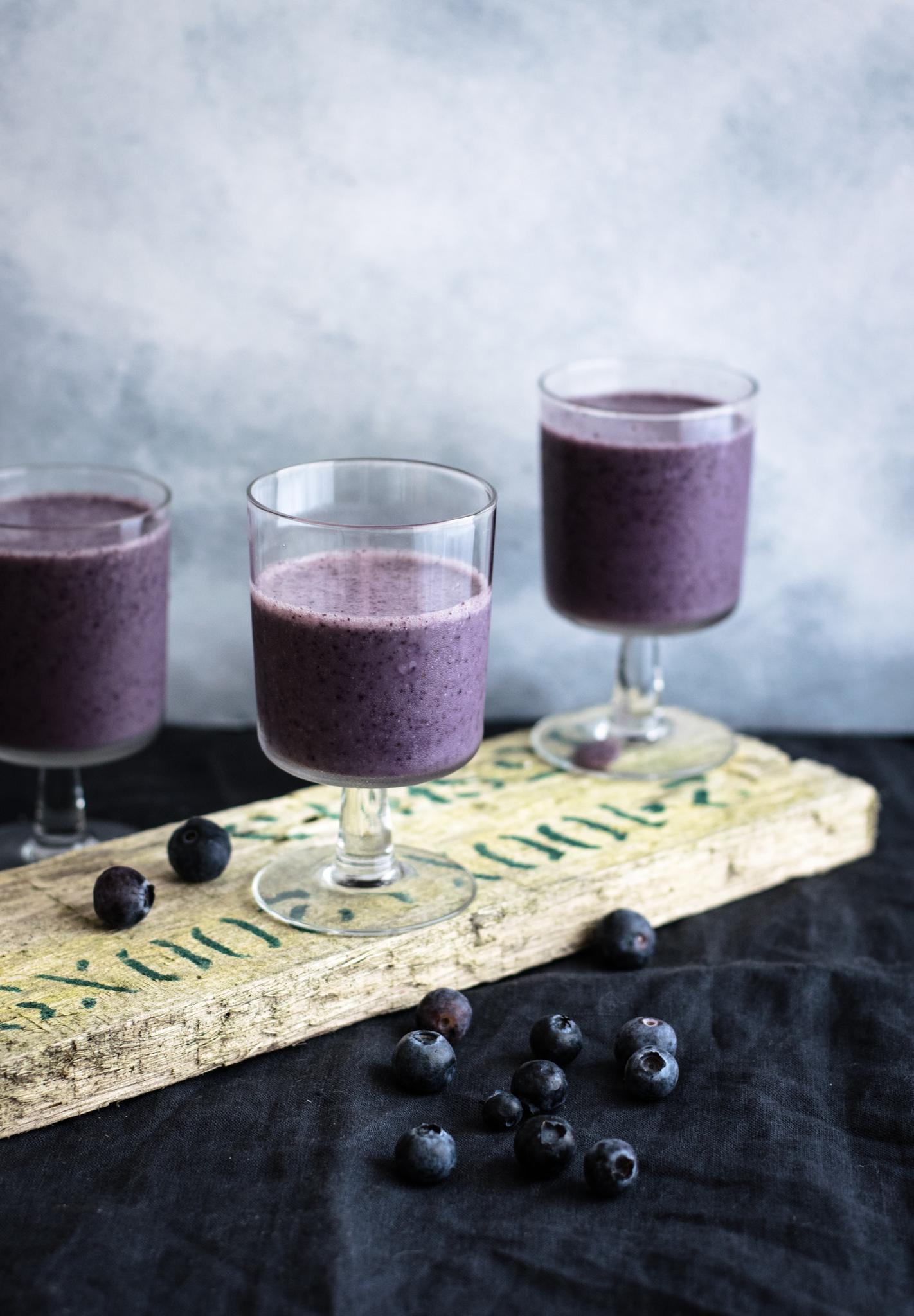 Packed with immune-boosting antioxidants, kickstart your day with this sweet and spicy blueberry smoothie.
PREP: 10 minutes     SERVES: 2
INGREDIENTS
1 cup frozen wild blueberries
1 cup frozen mango
1 teaspoon grated fresh ginger (or 1⁄4 teaspoon ground)
1 tablespoon peeled and chopped turmeric root (or 1 teaspoon ground)
2 teaspoons orange zest
1 tablespoon apple cider vinegar
1 tablespoon coconut oil
Pinch of black pepper
1 1⁄2 cups almond milk
METHOD
Blend all the ingredients in a blender until smooth and creamy, and serve immediately.
2) Berry Omelette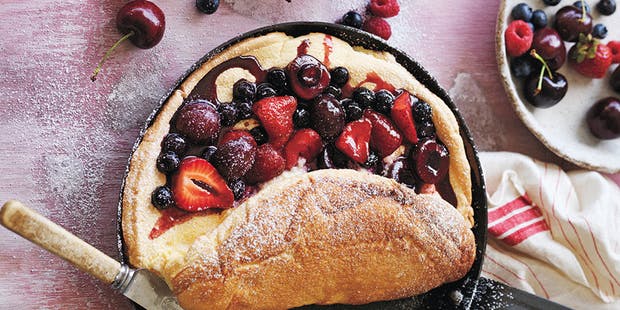 Start your day with a high-protein breakfast with a twist of berries to it.
PREP: 7 minutes     SERVES: 1
INGREDIENTS
1 large egg
1 tablespoon skimmed milk
3 pinches of cinnamon
1⁄2 teaspoon rapeseed oil
100 grams cottage cheese
175 grams chopped strawberries, blueberries and raspberries
METHOD
Beat egg with milk and cinnamon. Heat oil in a non-stick frying pan and pour in the egg mixture, swirling to evenly cover the base. Cook for a few minutes until set and golden underneath. There's no need to flip it over. Place on a plate spread over the cheese, then scatter with berries. Roll up and serve.
3) Cranberries and Baked Sweet Potatoes with Cinnamon-oat Crumble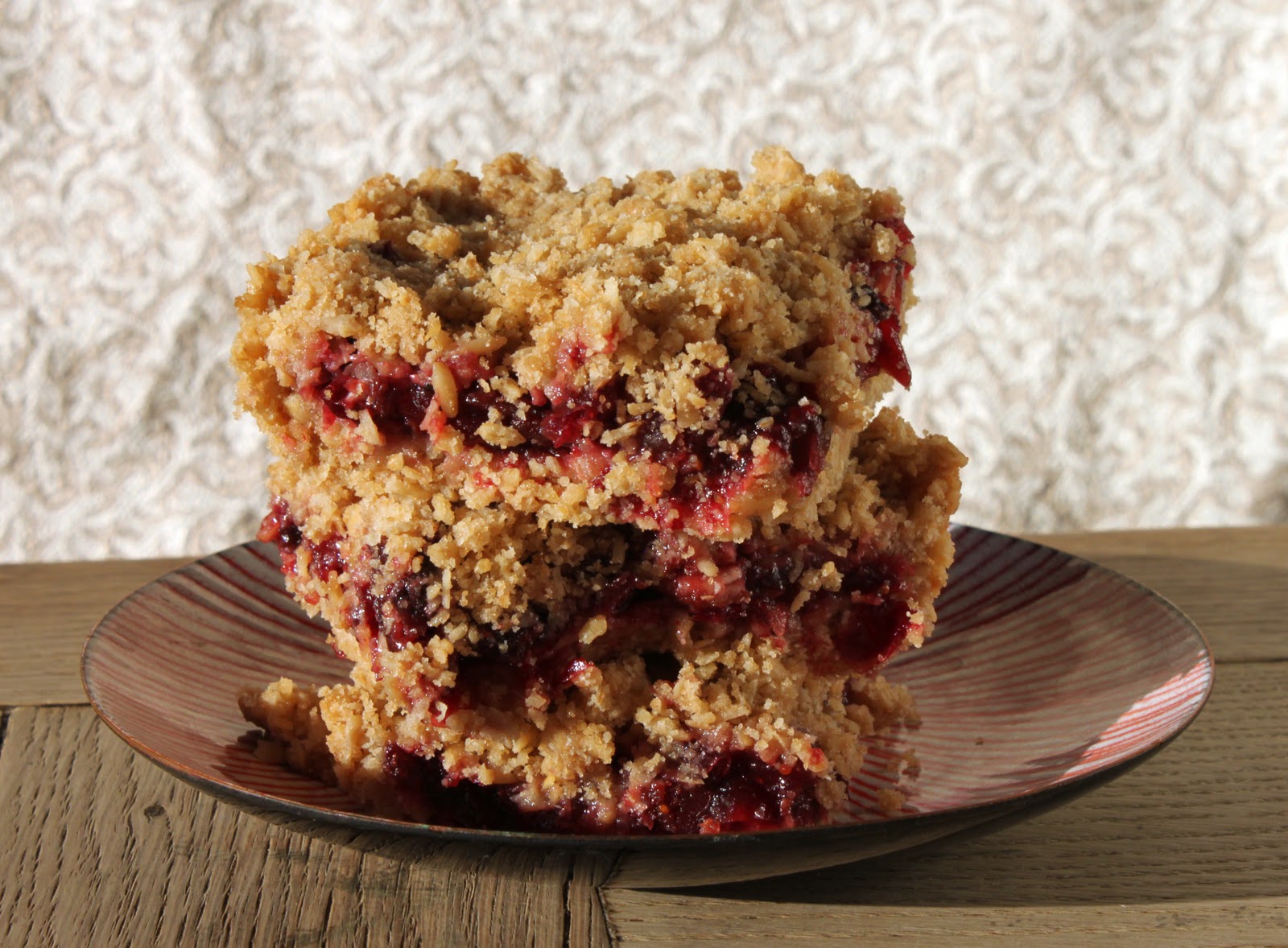 We all know how healthy oats are. But then what is it that stops us from eating them? Simple, they are too boring. So why not jazz up your oats with tangy cranberries and some sweet potatoes!
PREP: 45 minutes     SERVES: 8-10
INGREDIENTS
164 grams of canned sweet potatoes (2 large cans) 
1 cup all-purpose flour
1 cup dark brown sugar
1 cup rolled oats
2 teaspoons ground cinnamon
10 tablespoons salted butter, cut into pieces 
2 heaping cups fresh cranberries
METHOD
Preheat oven to 177°C. Drain the canned sweet potatoes, and keep the liquid aside. In a bowl, mix flour, brown sugar, oats and cinnamon. Add butter to the oats mixture. In a bowl, combine sweet potatoes and cranberries, and toss. To this add 2 cups of oats mixture, and mix well. Transfer the sweet potato mixture into a baking dish, and spread it evenly in the dish. Sprinkle the remaining oats mixture on top of the sweet potatoes. Bake uncovered for 35 minutes until the top is browned and the sides are bubbly. Serve hot!
4) Grilled Chicken with Raspberry Chipotle Glaze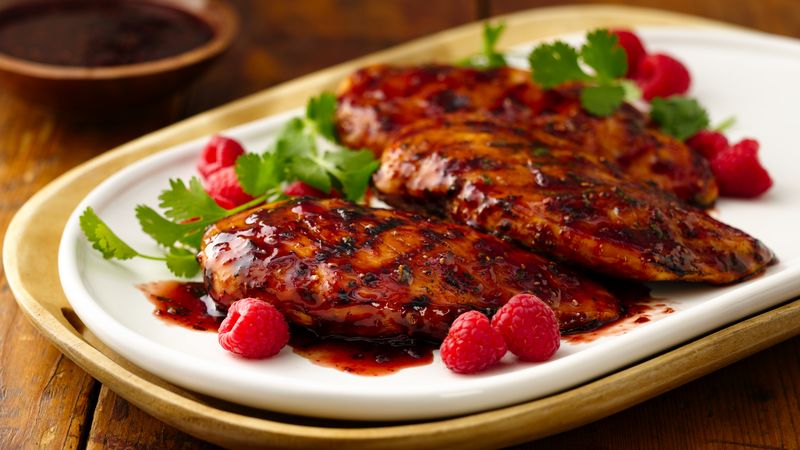 This tangy and light raspberry chipotle sauce perks up plain old chicken, making it healthy as well as extremely delicious.
PREP: 30 minutes     SERVES: 8
INGREDIENTS
Glaze
1 cup raspberry preserves
1/3 cup lime juice
2 chipotle chiles in adobo sauce, seeded, chopped 
2 teaspoons adobo sauce (from can of chiles)
2 tablespoons chopped fresh cilantro
Chicken
8 boneless skinless chicken breasts 
1 teaspoon garlic-pepper blend 
1/2 teaspoon ground cumin
1/2 teaspoon salt
METHOD
Heat gas and in a saucepan, mix the ingredients for the glaze. Cook over low heat, until preserves are melted. Then add cilantro. Sprinkle chicken with garlic-pepper blend, cumin, and salt. Place chicken on gas over medium heat. Cook for 15 to 20 minutes. Heat any remaining glaze; boil and stir for 1 minute. Serve chicken with glaze and fresh raspberries.
5) Triple Berry Kale Salad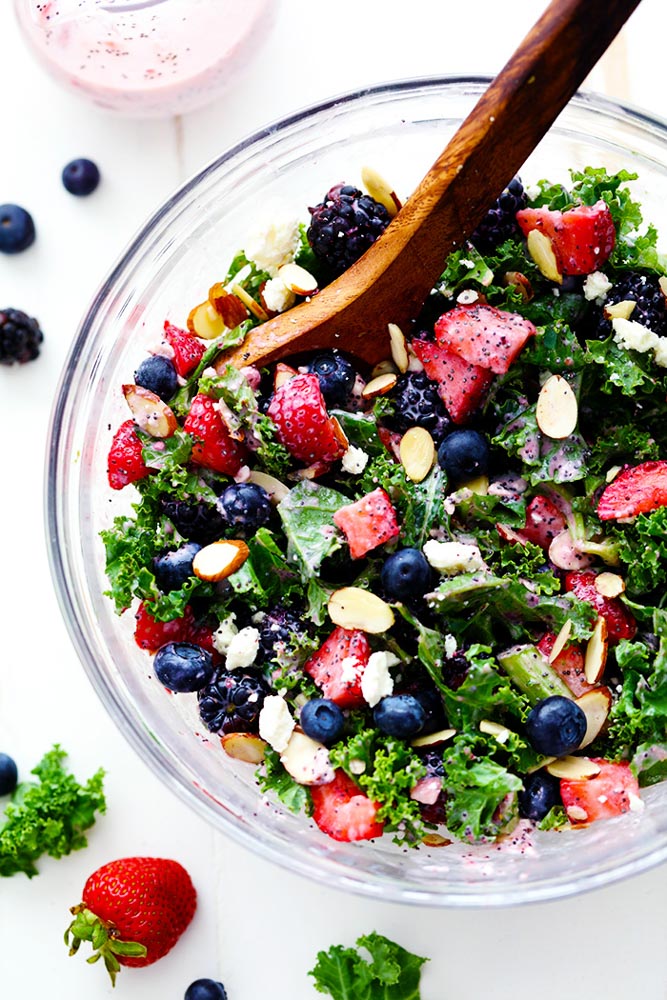 A healthy and light salad which is perfect for scrumptious yet healthy lunch.
PREP: 10 minutes     SERVES: 4
INGREDIENTS
1 head of curly kale, leaves removed from the stem and torn 
1 cup fresh tart cherries, pitted and sliced
1 cup fresh blueberries and blackberries
1 cup sliced fresh strawberries and avocado
2/3 cup chopped toasted almonds 
1/4 teaspoon salt and pepper
Fresh Strawberry Vinaigrette
3/4 cup sliced fresh strawberries 
3 tablespoons olive oil
2 tablespoons apple cider vinegar 
1 teaspoon honey
1 pinch salt, pepper, and cinnamon
METHOD
Place kale in a large bowl and add about 1/4 cup of the strawberry vinaigrette. Let the kale sit for 5-10 minutes. Add salt, pepper, cherries, berries, and avocado, then add a few more tablespoons of dressing. Finish by topping with chopped almonds. For the dressing, combine all ingredients together in a blender, and blend until smooth.
6) Blackberry and Cantaloupe Parfait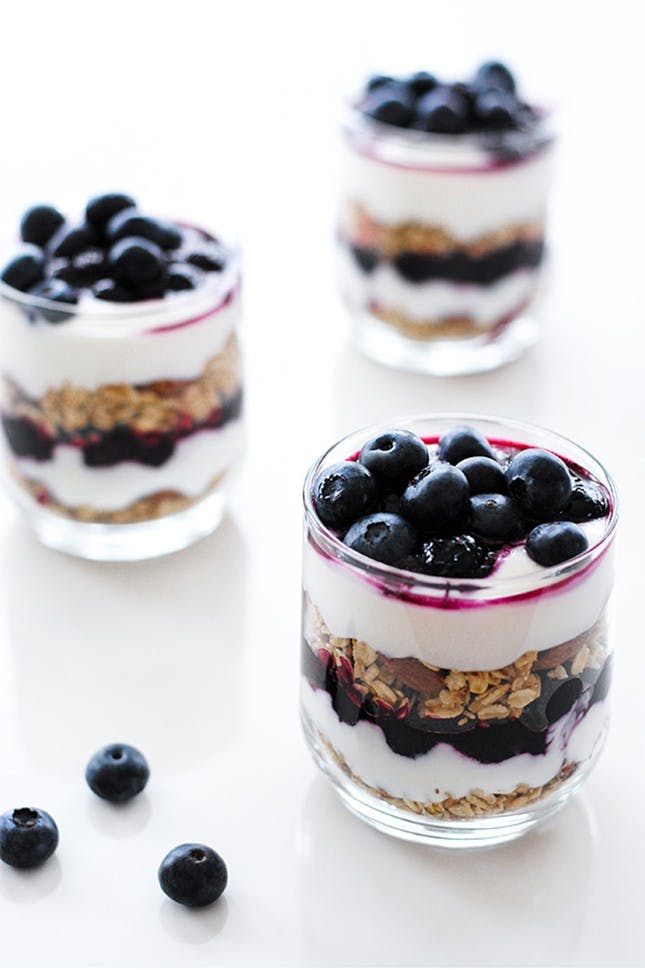 Add a twist to plain yogurt and granola bar by mixing it with sweet cantaloupe and delicious blackberries.
PREP: 5 minutes     SERVES: 1
INGREDIENTS
1 cup Greek yogurt plain, non-fat 
3/4 cup cantaloupe (1/2" cubes)
8 blackberries
1/3 cup cinnamon and oat granola
METHOD
In a serving dish, layer Greek yogurt, cantaloupe, blackberries, and granola. Repeat until serving dish is full. Top with any remaining fruit or granola.
7) Gluten-free Strawberry Shortcake Pancakes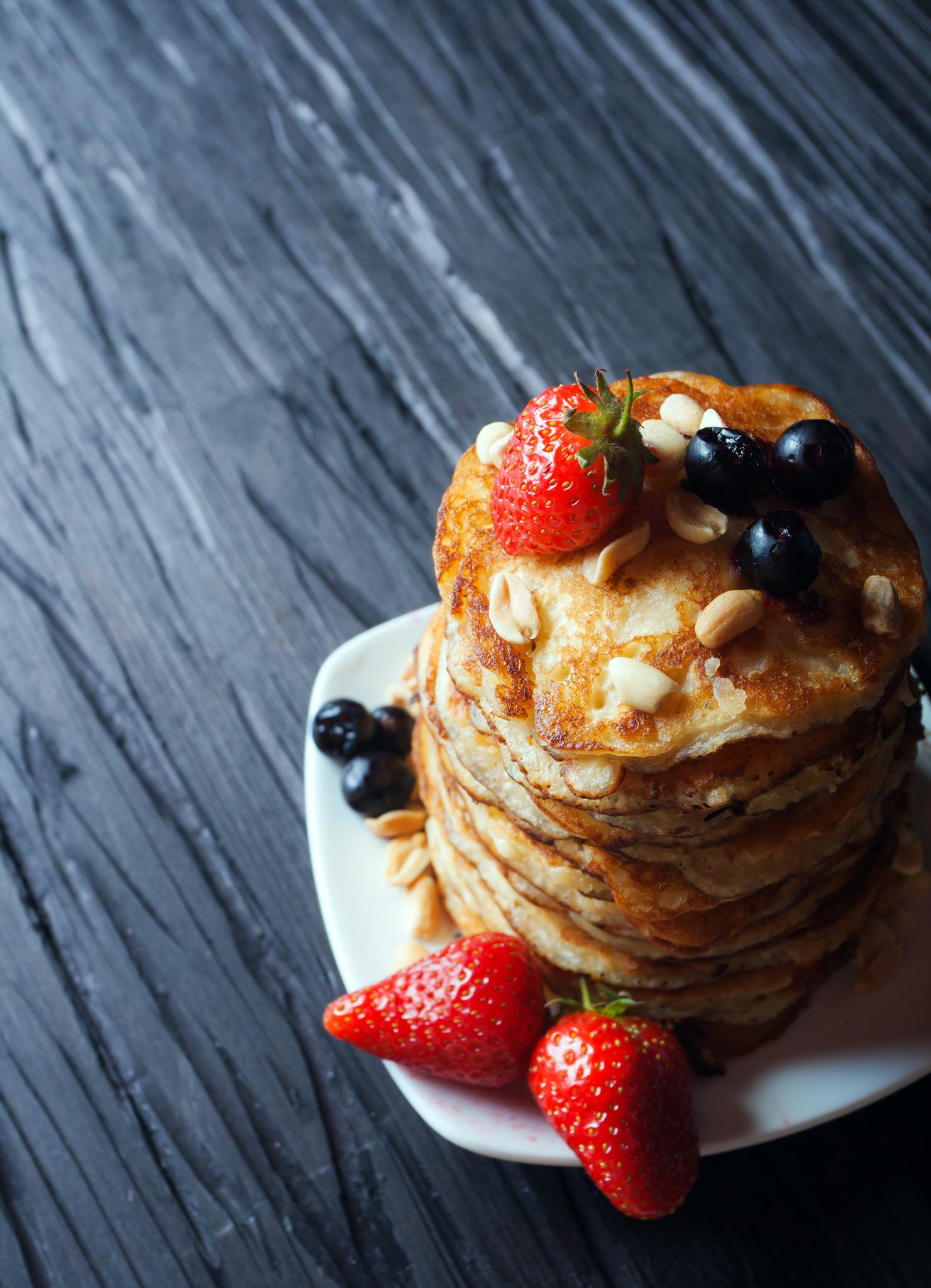 Start your day with something healthy yet absolutely delicious, and oh, let's not forget they're really pretty to look at as well.
PREP: 7 minutes     SERVES: 4-6
INGREDIENTS
1/4 cup sliced almonds
3/4 cup gluten-free rolled oats 
1 teaspoon sugar
1 teaspoon honey
Pinch of salt
1/4 teaspoon almond extract 
1/2 teaspoon vanilla essence
1/2 teaspoon baking powder
6 egg whites
1 cup fat-free cottage cheese
METHOD
In a blender, pulse the almonds, oats, and sugar until a fine powder is produced. Do not over mix or it will heat up or become a paste-like substance. Add all remaining ingredients and blend until all ingredients are mixed. Lightly grease a griddle over medium heat. Pour 1/3 cup scoops onto the griddle and cook for a minute or two or until the bubbles form on top. Flip and cook again until set. Serve with fresh strawberries and fresh whipped cream.
8) Blueberry Crumble Bar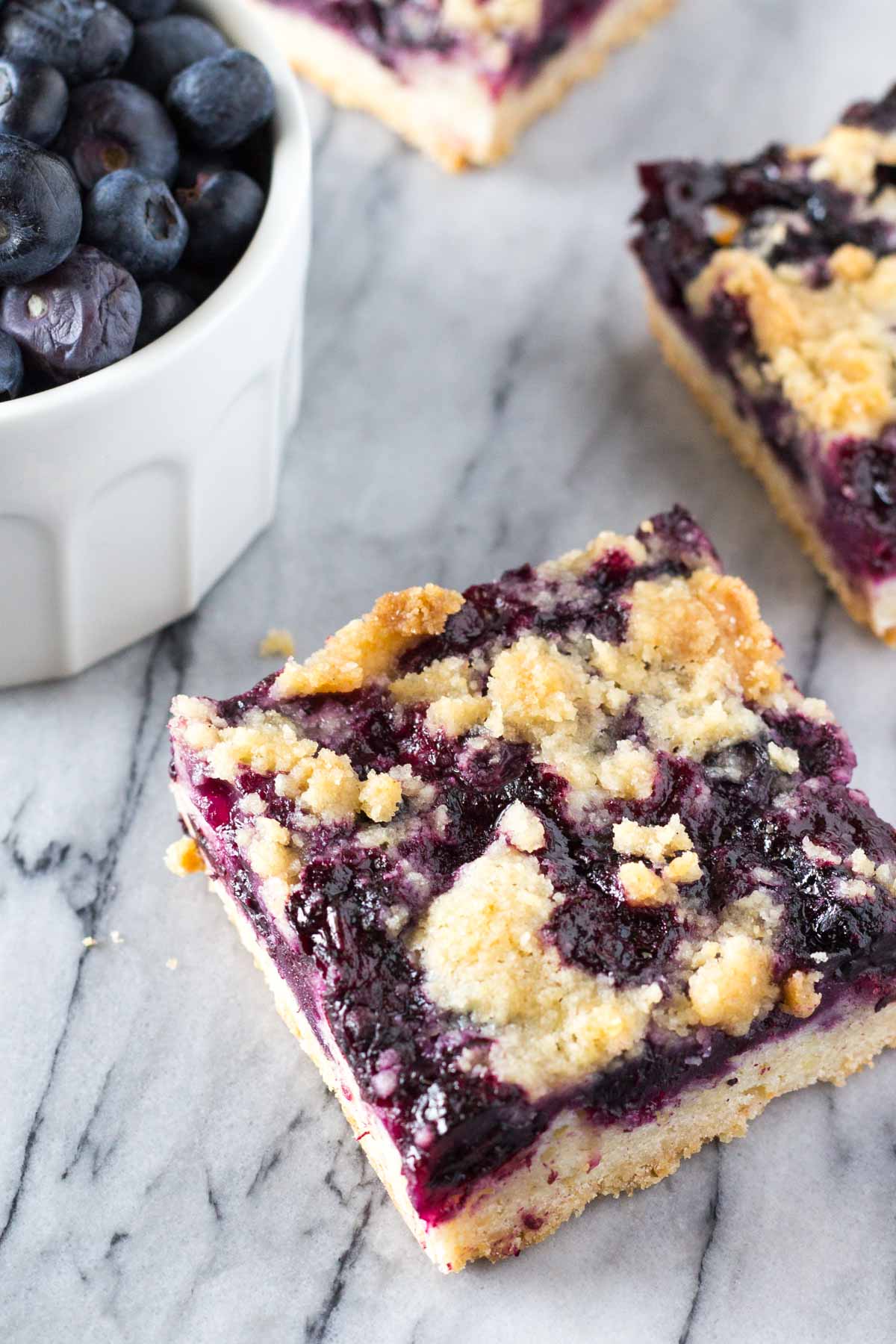 This deliciously fruity bar is portable and not too sweet. So, whenever you feel snacky here's a healthier option for you.
PREP: 1 hour 5 minutes     SERVES: 9 larger bars or 16 smaller bars
INGREDIENTS
1 cup all-purpose flour
1⁄2 cup old-fashioned rolled oats 
1⁄2 cup brown sugar
1⁄4 teaspoon salt
1⁄2 cup cold unsalted butter
2 cups fresh blueberries
1⁄4 cup granulated sugar
1 tablespoon fresh lemon juice 
2 teaspoons cornstarch
METHOD
Preheat oven to 176°C. Line an 8-inch square baking pan with aluminum foil, and set aside. In a bowl, mix together the flour, oats, brown sugar and salt until well combined. Add butter into the mixture using a fork until it resembles coarse crumbs. Remove 1 cup of the crumb mixture and set aside for the topping. Scoop the remaining crumb mixture into the prepared baking pan and firmly press it down into one even layer. In another bowl, add the blueberries, sugar, lemon juice and cornstarch. Mix until everything is well combined. Scoop the blueberries out of the bowl and onto the prepared crust and spread them out into an even layer. Sprinkle the reserved 1 cup of topping you set aside earlier on top of the blueberries. Bake at 176°C for 40-50 minutes. Remove from the oven and transfer to a wire rack to cool completely.
9)Roasted Salmon with Raspberry, Maple, and Thyme
What better way to enjoy salmon than to add raspberries to it! is dish is a perfect blend of sweet andsavoury.
PREP: 15 minutes     SERVES: 4
INGREDIENTS
1 1/2 pounds of salmon cut into 4 filets 
1 teaspoon whole grain mustard
1 teaspoon maple syrup
1/4 teaspoon orange zest
1/2 teaspoon fresh thyme leaves
1/4 cup frozen raspberries, defrosted and mashed using a fork
Sea salt and pepper
METHOD
Set oven to high. Then, in a small bowl, combine the mustard, maple syrup, orange zest, thyme, and raspberries. Place the salmon in an oven safe baking dish. Season with salt and pepper. Glaze the salmon with the raspberry mixture. Broil the salmon (8-10 inches from the flame) for 8-10 minutes depending on the thickness of the let and desired doneness.
10) Strawberry Chocolate Overnight Oats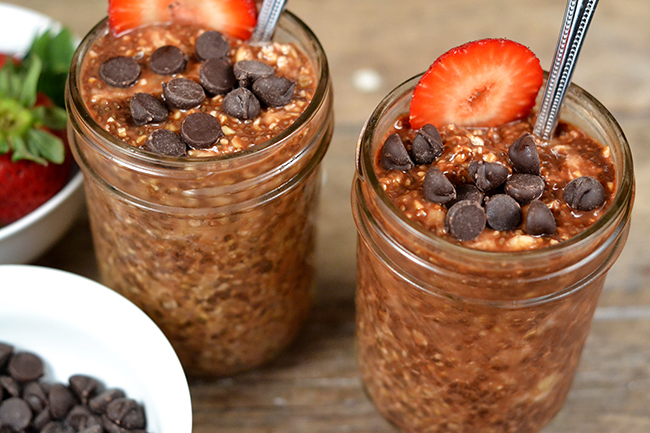 Too lazy to make breakfast the minute you wake up? How about prepare yourself a healthy breakfast the night before and enjoy this scrumptious strawberry chocolate oats in the morning, and get a great start to your day!
PREP: 5 minutes     SERVES: 1
INGREDIENTS
1/2 cup rolled oats
1/4 cup milk
1/2 cup plain Greek yogurt
1 teaspoon maple syrup
1 tablespoon chia seeds
1 tablespoon dark chocolate chips 
10 almonds
3-4 strawberries, sliced
METHOD
In a mason jar, add rolled oats, milk, and Greek yogurt. Add in the remaining ingredients and cover with a lid. Place in the refrigerator overnight. When ready to serve, remove the lid and stir well.
← Back to portfolio
Add a comment